Welcome back to my new Author Spotlight series! As a reminder, for this series, I've asked all these authors the same questions, to get to know a little more about their projects, their lives, their publishing experiences, and the things their readers might never have known to ask. Oh, and a photo they would never, ever use as an author photo. Now, let's get started!
I'm not gonna lie – this photo is one of my absolute favorites so far…
Clearly, Trish Doller is a person you need to know. And to that end, here's her official bio:
I've been a writer as long as I've been able to write, but I didn't make a conscious decision to "be" a writer until fairly recently. For that you should probably be thankful.
I was born in Germany, grew up in Ohio, went to college at Ohio State University, got married to someone really excellent, bounced from Maine to Michigan and back to Ohio for awhile. Now I live in Florida with my two mostly grown kids, two dogs, and a pirate. For real.
I've worked as a morning radio personality, a newspaper reporter, and spent all my summers in college working at an amusement park. There I gained valuable life skills, including counting money really fast, directing traffic, jumping off a moving train, and making cheese-on-a-stick. Also, I can still welcome you to Frontier Town. Ask me sometime.​
These days I work as a bookseller at a Very Big Bookstore. And, you know, write.
I make pinterest boards for all my books and works in progress: http://www.pinterest.com/trishdoller/
And my favorite place in the world is tumblr (which is kind of like looking inside my brain): http://trishisthinkingagain.tumblr.com
So, yeah, she's clearly already pretty freaking excellent on her own. But I Dahliafied her bio anyway:
Trish Doller writes disgustingly amazing books that'll make you mad you don't possess her brain, but grateful that she does. If you're anything like me, you may distinctly remember your only pause in reading Something Like Normal being the one necessary to take off your coat so you can settle in at home and read even faster. She writes honest, badass books about real teenage characters in all their flawed glory, and has been on my instabuy author list since her debut. She was also awesome enough to blurb my book, which I'm sure I'll stop glowing over any day now.
And since I'm gushing over her books, you should probably learn a little more about them too:
Published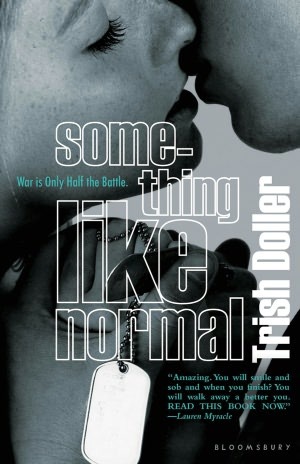 A Little-Known Fact About Something Like Normal: I didn't plan to have Travis return to Afghanistan as a bomb dog handler until after I talked to a Marine who was training to be a handler. He told me it was the best thing he'd ever done as a Marine and when I thought about how healing it could be for Travis to redeploy with a dog, it seemed like a great addition to the book.
A Sensory Image: I was tempted to pick a Travis & Harper picture but the story of Travis & Charlie is ultimately what I love most about the book: http://www.pinterest.com/pin/215398794647918787/
Buy It: Amazon * B&N * IndieBound
(Blogger's Note: Something Like Normal is included in my B&N post "5 Great Military-Themed YAs")
A Little-Known Fact About Where the Stars Still Shine: It took me a long time to settle on Callie's name because I was looking for a Greek name that nicknamed to something that didn't necessarily sound Greek. I tried on Cassandra (Cassie), Andromeda (Annie), and Alexandra (Allie, which no…because Alex was always Alexandros) before I settled on Callie.
A Sensory Image: I can't even listen to this song without getting tears in my eyes because it's so Callie: https://www.youtube.com/watch?v=CtbKWilkuLs
Buy It: Amazon * B&N * IndieBound
The Upcoming
My third book, The Devil You Know, will be out in June 2015. I don't have firm date yet, but it will probably the first or second week of the month.
Anyway, it's the story of Arcadia "Cadie" Wells, an eighteen-year-old girl who longs for a bigger life than her small Florida town can offer. Since her mother died, Cadie's been attending high school, raising her baby brother, looking after her grieving father, and working part-time at the family grocery store. On a rare night out, she meets a couple of cute tourist boys who invite her to join them on their camping trip through Florida. But what starts as a fun and sexy adventure turns terrifying when one of the boys is not what he seems.
On the surface, Cadie's story is a psychological thriller, but I made a lot of deliberate choices in this book with the hopes readers will take away more than just a thriller.
A Little-Known Fact About The Devil You Know: This story was partially inspired by an F. Scott Fitzgerald short story called "The Ice Palace."
A Sensory Image: The Devil You Know: http://www.pinterest.com/pin/215398794649651097/
And now, to go all rec-ing ball…
Tell us about your critique partner(s)/co-author(s) and why their books are awesome!
Okay, so my critique partners are Cristin Bishara (Relativity), Miranda Kenneally (Breathe, Annie, Breathe), Tara Kelly (Amplified), Carrie Mesrobian (Sex & Violence), Veronica Rossi (Under the Never Sky series), and Suzanne Young (The Program). Just look at those book titles. Every single one of them is amazing. And each of them bring so much genius to the table, making me the luckiest author alive.
1-3 other books in your genre (in Trish's case, Contemp YA) that you love 
Jellicoe Road

by Melina Marchetta

Raw Blue

by Kirsty Eagar

The Sky Always Hears Me: and the Hills Don't Mind

by Kirstin Cronn-Mills
1-3 other books not in your genre that you love
A Need So Beautiful

by Suzanne Young

Graceling

by Kristin Cashore

The Knife of Never Letting Go

by Patrick Ness
And now let's talk a little about publishing, because, again, my blog, and what else do we do here?
Who are you repped by?

I am repped by Kate Schafer-Testerman of ktliterary, who has represented all of my books. She is a superhero and I love her.
As a published author, what was something you learned through the process that was so not worth the stress?
Keep your expectations low. It's better to be pleasantly surprised when good things happen than disappointed when they don't.
What was something that actually was?
Editing is not a test. When I was working on revisions for my first book (which ultimately did not get published) I was operating under the perception that edits were something I could get wrong. So I second guessed every decision, weighing whether or not my editor would like it, and the whole process stressed me out. Then we sold what would become Something Like Normal and I realized that the edits still belonged me. That my editor was there to help and we were a team.
What sorts of things do you shamelessly pass off as "research"?

Does tumblr count? Looking at pictures of actors who resemble my characters? Eating Greek food was definitely research, right?
What do you always wish people would ask you in interviews?
Will you ever write books for adults? To which the answer is…yes. Well, at least I hope. We'll see.