This was a very cool month for me in both YA and NA, which had nothing to do with me and everything to do with how many authors I adore and admire released really, really excellent books. I tried to talk about them as much as I could, but there was just so much, I don't know what got lost in all the amazingness. So, I figured that for my Top Ten Tuesday post today (i.e. the last release day of April), I'd do a recap on Ten Titles released this month that are books I really enjoyed by people I'm lucky and honored to call friends. And yes, the fact that there are ten of those (more, actually, but let's not even go there right now) to discuss this month totally blows my mind. I also have a few things to give away, so, look for what says +GIVEAWAY+ underneath and then scroll to the bottom of the post to see how to get it.
*Giveaways are US only unless you want to pay the difference in shipping. Sorry, but these add up waaaay too fast.
So, working backward from today's releases:
1. Black Iris by Leah Raeder.
It only took one moment of weakness for Laney Keating's world to fall apart. One stupid gesture for a hopeless crush. Then the rumors began. Slut, they called her. Queer. Psycho. Mentally ill, messed up, so messed up even her own mother decided she wasn't worth sticking around for.
If Laney could erase that whole year, she would. College is her chance to start with a clean slate.
She's not looking for new friends, but they find her: charming, handsome Armin, the only guy patient enough to work through her thorny defenses—and fiery, filterless Blythe, the bad girl and partner in crime who has thorns of her own.
But Laney knows nothing good ever lasts. When a ghost from her past resurfaces—the bully who broke her down completely—she decides it's time to live up to her own legend. And Armin and Blythe are going to help.
Which was the plan all along.
Because the rumors are true. Every single one. And Laney is going to show them just how true.
She's going to show them all.
This is the easiest one for me to talk about in brief because I loved it so much that I blurbed it:
"Raeder masterfully weaves a dark, twisted, dangerously sexy quest for revenge with a raw, honest search for kinship and self-acceptance. Black Iris demands your attention, your heart, and an immediate reread." (Dahlia Adler, author of Last Will and Testament)
You can (and should) also check out this interview I did with the author here, and this interview in which she acknowledges I was actually right about something.
Amazon • Audible • Barnes & Noble • Google Play • IndieBound • iTunes • Powell's
+GIVEAWAY – paperback+
2. The Girl at Midnight by Melissa Grey
Beneath the streets of New York City live the Avicen, an ancient race of people with feathers for hair and magic running through their veins. Age-old enchantments keep them hidden from humans. All but one. Echo is a runaway pickpocket who survives by selling stolen treasures on the black market, and the Avicen are the only family she's ever known.
Echo is clever and daring, and at times she can be brash, but above all else she's fiercely loyal. So when a centuries-old war crests on the borders of her home, she decides it's time to act.
Legend has it that there is a way to end the conflict once and for all: find the Firebird, a mythical entity believed to possess power the likes of which the world has never seen. It will be no easy task, but if life as a thief has taught Echo anything, it's how to hunt down what she wants . . . and how to take it.
But some jobs aren't as straightforward as they seem. And this one might just set the world on fire.
I was part of the blog tour for this one, so you can read about my love for it (and Melissa) and the foods mentioned within here!
Amazon, Barnes & Noble, Kobo, Indiebound, Powell's, Goodreads, Books of Wonder
3. Lying Out Loud by Kody Keplinger
Sonny Ardmore is an excellent liar. She lies about her dad being in prison. She lies about her mom kicking her out. And she lies about sneaking into her best friend's house every night because she has nowhere else to go.
Amy Rush might be the only person Sonny shares everything with— secrets, clothes, even a nemesis named Ryder Cross.
Ryder's the new kid at Hamilton High and everything Sonny and Amy can't stand—a prep-school snob. But Ryder has a weakness: Amy. So when Ryder emails Amy asking her out, the friends see it as a prank opportunity not to be missed.
But without meaning to, Sonny ends up talking to Ryder all night online. And to her horror, she realizes that she might actually like him. Only there's one small catch: he thinks he's been talking to Amy. So Sonny comes up with an elaborate scheme to help Ryder realize that she's the girl he's really wanted all along. Can Sonny lie her way to the truth, or will all her lies end up costing her both Ryder and Amy?
Just got to celebrate this launch last night, which included me acting out the part of Amy alongside Danielle Paige's Sonny and Adam Silvera's Ryder. Let's…not talk about that part. But you can see LOL featured in my BN Teens post April Contemporary YA Romances to Love. 
+GIVEAWAY – signed ARC+

4. 99 Days by Katie Cotugno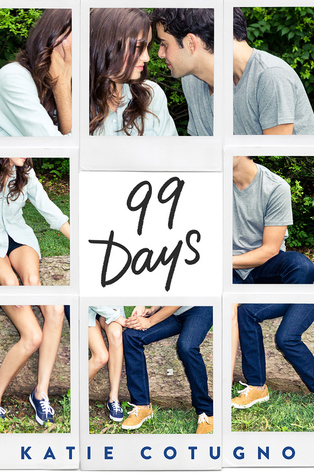 Day 1: Julia Donnelly eggs my house my first night back in Star Lake, and that's how I know everyone still remembers everything—how I destroyed my relationship with Patrick the night everything happened with his brother, Gabe. How I wrecked their whole family. Now I'm serving out my summer like a jail sentence: Just ninety-nine days till I can leave for college, and be done.
Day 4: A nasty note on my windshield makes it clear Julia isn't finished. I'm expecting a fight when someone taps me on the shoulder, but it's just Gabe, home from college and actually happy to see me. "For what it's worth, Molly Barlow," he says, "I'm really glad you're back."
Day 12: Gabe got me to come to this party, and I'm actually having fun. I think he's about to kiss me—and that's when I see Patrick. My Patrick, who's supposed to be clear across the country. My Patrick, who's never going to forgive me.
You can find my thoughts on 99 Days in the same April Contemporary YA Romances to Love post as above, and in my Goodreads review. I was also lucky enough to be at Katie's NYC Epic Reads tour stop last week, to get to see her in person and get a signed copy. More on that soon when I finally start my Dahlia's Awesome Shelves series!
Amazon, Barnes & Noble, Powell's.
5. Play On by Michelle Smith.
In the small town of Lewis Creek, baseball is everything. Especially for all-star pitcher Austin Braxton, who has a one-way ticket out of town with his scholarship to a top university. All that stands between him and a new start is one final season. But when Austin starts flunking Chemistry, his picture-perfect future is in jeopardy. A failing grade means zero playing time, and zero playing time means no scholarship.
Enter Marisa Marlowe, the new girl in town who gets a job at his momma's flower shop. Not only is Marisa some home-schooled super-genius; she's also a baseball fanatic and more than willing to help Austin study. As the two grow closer, there's something about Marisa that makes Austin want more than just baseball and out of Lewis Creek — he wants a future with her. But Marisa has a past that still haunts her, one that she ran all the way to South Carolina to escape.
As Austin starts to peel back the layers of Marisa's pain, it forces him to look beyond the façade of himself and everyone he thought he knew in his town. What he sees instead is that in a small town like Lewis Creek, maybe baseball isn't everything—maybe it is just the thing that ties them all together.
Ditto April Contemporary YA Romances to Love, though the most important stuff I have to say about it is really here.
6. All the Rage by Courtney Summers.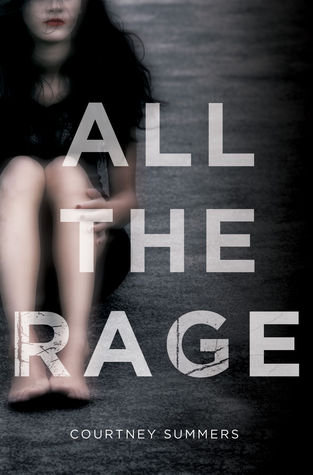 The sheriff's son, Kellan Turner, is not the golden boy everyone thinks he is, and Romy Grey knows that for a fact. Because no one wants to believe a girl from the wrong side of town, the truth about him has cost her everything—friends, family, and her community. Branded a liar and bullied relentlessly by a group of kids she used to hang out with, Romy's only refuge is the diner where she works outside of town. No one knows her name or her past there; she can finally be anonymous. But when a girl with ties to both Romy and Kellan goes missing after a party, and news of him assaulting another girl in a town close by gets out, Romy must decide whether she wants to fight or carry the burden of knowing more girls could get hurt if she doesn't speak up. Nobody believed her the first time—and they certainly won't now — but the cost of her silence might be more than she can bear.
With a shocking conclusion and writing that will absolutely knock you out, All the Rage examines the shame and silence inflicted upon young women after an act of sexual violence, forcing us to ask ourselves: In a culture that refuses to protect its young girls, how can they survive?
I have so. Many. Thoughts on this book, and have had so much to say about it, so I won't say any more here. I'll just direct you to:
An interview I did with Courtney for BN Teens
A BN Teens feature on all five of Courtney's full-length novels
+GIVEAWAY – hardcover+
7. Second Position by Katherine Locke.
Four years ago, a car accident ended Zedekiah Harrow's ballet career and sent Philadelphia Ballet principal dancer Alyona Miller spinning toward the breakdown that suspended her own. What they lost on the side of the road that day can never be replaced, and grief is always harshest under a spotlight…
Now twenty-three, Zed teaches music and theatre at a private school in Washington, D.C. and regularly attends AA meetings to keep the pain at bay. Aly has returned to D.C. to live with her mother while trying to recover from the mental and physical breakdown that forced her to take a leave of absence from the ballet world, and her adoring fans.
When Zed and Aly run into each other in a coffee shop, it's as if no time has passed at all. But without the buffer and escape of dance—and with so much lust, anger and heartbreak hanging between them—their renewed connection will either allow them to build the together they never had… or destroy the fragile recoveries they've only started to make.
Not only did I love love love this character-driven NA – my very first read by my dear friend Katie – but I got the honor of revealing the cover of its follow-up just a few days after this one's release. See more of my thoughts on Second Position and the details of Finding Center here.
The District Ballet Company Series
Turning Pointe (District Ballet Company #0.5—free novella)
Second Position (District Ballet Company #1)
Finding Center (District Ballet Company #2)
8. Skandal by Lindsay Smith.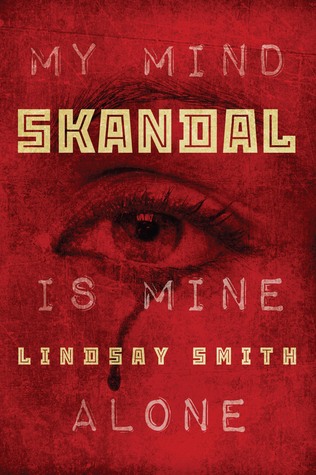 The dramatic sequel to Sekret, this psychic Cold War espionage thriller follows Yulia to Washington, DC, where she fights to discover the truth about her family without losing control of her mind.
My mind is mine alone.
Life in Washington, D.C., is not the safe haven Yulia hoped for when she risked everything to flee communist Russia. Her father is reckless and aloof, and Valentin is distant and haunted by his past. Her mother is being targeted by the CIA and the US government is suspicious of Yulia's allegiance. And when super-psychics start turning up in the US capitol, it seems that even Rostov is still a threat. Ultimately, Yulia must keep control of her own mind to save the people she loves and avoid an international Skandal.
Loved both book one of this duology (Sekret) and this one, and I got to interview Lindsay about them for BN Teens, which you can read here.
Sekret: Indiebound | Amazon | Barnes & Noble | Chapters | The Book Depository
Skandal: Indiebound | Amazon | Barnes & Noble | Chapters | The Book Depository
9. Simon Vs. the Homo Sapiens Agenda by Becky Albertalli.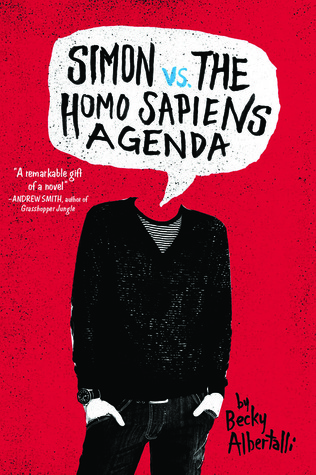 Sixteen-year-old and not-so-openly gay Simon Spier prefers to save his drama for the school musical. But when an email falls into the wrong hands, his secret is at risk of being thrust into the spotlight. Now Simon is actually being blackmailed: if he doesn't play wingman for class clown Martin, his sexual identity will become everyone's business. Worse, the privacy of Blue, the pen name of the boy he's been emailing, will be compromised.
With some messy dynamics emerging in his once tight-knit group of friends, and his email correspondence with Blue growing more flirtatious every day, Simon's junior year has suddenly gotten all kinds of complicated. Now, change-averse Simon has to find a way to step out of his comfort zone before he's pushed out—without alienating his friends, compromising himself, or fumbling a shot at happiness with the most confusing, adorable guy he's never met.
This is yet another book you can read up on in April Contemporary YA Romance to Love, but I also highly recommend reading Becky's guest post for BN Teens on Why Coming Out Stories Still Matter.
10. None of the Above by I.W. Gregorio.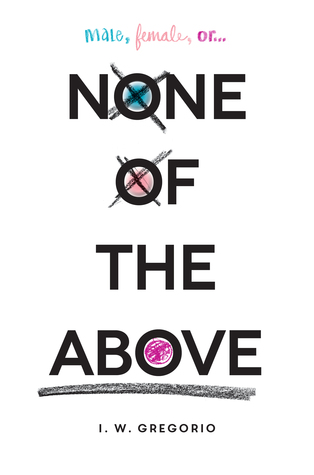 When Kristin Lattimer is voted homecoming queen, it seems like another piece of her ideal life has fallen into place. She's a champion hurdler with a full scholarship to college and she's madly in love with her boyfriend. In fact, she's decided that she's ready to take things to the next level with him.
But Kristin's first time isn't the perfect moment she's planned—something is very wrong. A visit to the doctor reveals the truth: Kristin is intersex, which means that though she outwardly looks like a girl, she has male chromosomes, not to mention boy "parts."
Dealing with her body is difficult enough, but when her diagnosis is leaked to the whole school, Kristin's entire identity is thrown into question. As her world unravels, can she come to terms with her new self?
I shared my (very positive) thoughts on this one here, and was also lucky enough to get Ilene to share some facts and myths about intersexuality on BN Teens.
Powell's | Indiebound | B&N | Amazon
To win any of the giveaway items, just review any of the above books on Amazon or B&N (crossposting from Goodreads is more than welcome, but a Goodreads review alone is not enough), and tweet me a link with hashtag #AprilYA and what prize you're entering for!