Tags
Anything Could Happen, Because You'll Never Meet Me, Brooklyn Burning, Immaculate, Jesse's Girl, Katelyn Detweiler, Katherine Locke, Leah Thomas, Liars Inc., Miranda Kenneally, Paula Stokes, Renee Ahdieh, Saint Anything, Sarah Dessen, Second Position, Steve Brezenoff, Teresa Mummert, The Good Girls, The Wrath and the Dawn, Will Walton
Happy Top Ten Tuesday, courtesy of the Broke and the Bookish! I'm not the most consistent poster of these, but I can never resist talking about my TBR. In this case, since my ARC shelf is pretty much full to bursting, I think it's safe to that'll be feeding my spring TBR pretty well! Without further ado, here is that TBR!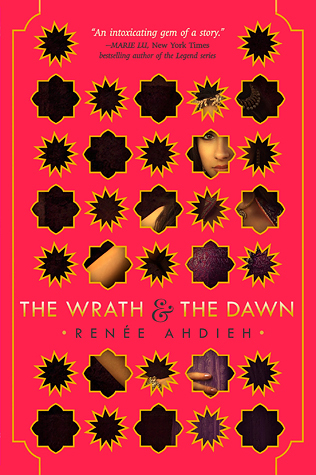 The Wrath and the Dawn by Renee Ahdieh – I have heard nothing but great things about this debut, and I'm endlessly amused by the "wedding" invitation I have pinned to the swag board over my desk.
Saint Anything by Sarah Dessen – I must cop to not having read nearly enough Dessen in my lifetime, but this book is one I'm really, really excited for, and the ARC's been burning a whole my in my shelf for months. Definitely bringing this one on Passover vacation with me!
Jesse's Girl by Miranda Kenneally – Yeah, I'll pretty much read anything by Miranda Kenneally sight unseen, so I'm excited to have gotten this ARC! Especially since she and I will be paneling together in August, so if you're in the DC area and you're as big a Miranda fan as I am, come say hi on the 6th at One More Page in Arlington 😉
Immaculate by Katelyn Detweiler – That premise, man. How could I not? I've been fascinated by immaculate conception fiction ever since I read a James Patterson book with that theme a bajillion years ago, and I'm excited that this will be my first YA of the sort.
Anything Could Happen by Will Walton – LGBTQ YA is seriously on a roll this year, and this one looks completely adorable, plus I have it on good authority it quite nails the coming out experience. I know people are all "Let's have some LGBTQ YA that isn't about coming out!" buuuuut considering coming out is still pretty damn relevant, I'm excited to see good new stories in that vein get added to the canon too.
Brookyn, Burning by Steve Brezenoff – this one's not an ARC, but rather a published book I'm afraid Katie Locke will kill me if I don't read. And speaking of Katie Locke:
Second Position by Katherine Locke – I mean…it's Katie Locke. So.
Liars, Inc. by Paula Stokes – And by similar logic, it's Paula Stokes, and it's a psychological thriller. Too much goodness to be ignored.
The Good Girls by Theresa Mummert – Uhhh, yeah, it's f/f NA, which means it automatically jumps to the top of the queue when it releases on April 6!
Because You'll Never Meet Me by Leah Thomas – Another one I've heard great things about and been looking forward to for a while, and which I hear has excellent dual-POV.
Oh, and two bonus entries, just because bragging is my absolute favorite pastime:
Map of Fates by Maggie Hall and Cam Girl by Leah Raeder. Yeah, those are the books I'm beta-ing this spring. I know, I hate me too.
What's on your spring TBR?