Number Of Books You Read: around 175
Number of Re-Reads: 0
Genre You Read The Most From: Contemporary YA
 
1. Best Book You Read In 2014?
I'll Give You the Sun by Jandy Nelson was my personal favorite.
2. Book You Were Excited About & Thought You Were Going To Love More But Didn't?
Definitely not any fault of the author, but I'm sad I couldn't handle Prisoner of Night and Fog by Anne Blankman. I've heard endless fantastic things about this book, but I'm a granddaughter of Holocaust survivors who lost several siblings in the war, including to beatings, and I couldn't get past the first chapter. There aren't a lot of things I can't handle reading, but apparently that's one of them.
 3. Most surprising (in a good way or bad way) book you read in 2014? 
I was definitely surprised by how much I enjoyed Swimming to Tokyo by Brenda St. John Brown. I copy edited the first few chapters months before I read the book as a whole, but I was totally unprepared for the deep love I'd fall into later in the book. Another one was Dirty London by Kelley York, which was my first book of hers despite having had several others of hers on my TBR before I discovered she had an f/f romance. My expectations were low only because I really hadn't heard anything about it, but I ended up enjoying it a lot.
 4. Book You "Pushed" The Most People To Read (And They Did) In 2014?

I definitely still pushed a lot of the same books I pushed massively last year, but 2014 titles? Maybe Deeper by Robin York and Swimming to Tokyo by Brenda St. John Brown. I'm really thinking in terms of books people wouldn't necessarily have read otherwise, though. In terms of flat-out pimping, judging by my B&N blog posts, probably either I'll Give You the Sun by Jandy Nelson or Everything Leads to You by Nina LaCour.
 5. Best series you started in 2014? Best Sequel of 2014? Best Series Ender of 2014?

Best series I started in 2014 goes to Illusive by Emily Lloyd-Jones. LOVED IT, and I am so not a sci-fi person. Best sequel… sort of cheating because it's a 2015 book, but since I read it in 2014, I'm going with Skandal by Lindsay Smith. And I only read one series ender in 2014, and that was Isla and the Happily Ever After, so that's my pick for that win!
 6. Favorite new author you discovered in 2014?
Robin York. I read both Deeper and Harder, and will read any other NA she writes, without question. I've also started reading her adult romances, which she writes as Ruthie Knox, and expect I'll be making my way through all of them in 2015. I'd be totally remiss not to mention Liz Czukas here, though. She's 3 for 3 (including her upcoming pen-named NA When Joss Met Matt, which releases in February) for really fun books with great characters who make me smile uncontrollably.
7. Best book from a genre you don't typically read/was out of your comfort zone?

Illusive by Emily Lloyd-Jones. I am so tremendously not a sci-fi person, but I loved every page of this book.
 8. Most action-packed/thrilling/unputdownable book of the year?

It's funny because those aren't really the words I'd use to describe it (well, other than unputdownable), but for whatever reason, Rites of Passage by Joy N. Hensley is what comes to mind. I just read it feeling so much tension, wanting so much more – not because it was lacking, but because I was just greedy for it, and would Kickstart a sequel in a heartbeat – and feeling really sucked in to the world she'd created. There's definitely action, and definitely parts that are thrilling, but it's really just the overall vibe when you're reading that killed me.
 9. Book You Read In 2014 That You Are Most Likely To Re-Read Next Year?
I don't really reread anymore because of time constraints, but I beta read Black Iris by Leah Raeder in 2014, and fully expect I'll reread it when it's out in final book form next year. (That actually could've gone above, too – I thought I'd read it over a period of a few days, but when I tried to go to sleep, I actually couldn't do it. I had to pick it back up and finish. Definitely a book I'd qualify as thrilling and unputdownable.)
10. Favorite cover of a book you read in 2014?
Kiss Kill Vanish by Jessica Martinez.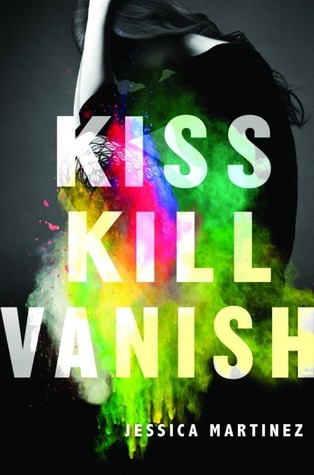 11. Most memorable character of 2014?

It almost feels like cheating to go with Joe from You by Caroline Kepnes, but like…holy crap. From YA, probably Chloe from Dangerous Boys.
 12. Most beautifully written book read in 2014?
I'll Give You the Sun by Jandy Nelson.
13. Most Thought-Provoking/ Life-Changing Book of 2014?
Dangerous Boys by Abigail Haas, which made me strongly evaluate my inner sociopath. Everyone's inner sociopath, really.
 14. Book you can't believe you waited UNTIL 2014 to finally read? 
Charm & Strange by Stephanie Kuehn. It came out in 2013 so it's not like it was a tremendously long delay, but that I waited until November 2014 to read it seems absurd to me now.
I can believe I waited until 2014 to read 45 Pounds by Kelly Barson, because I generally avoid weight-issue books like the plague, but it was the first one I've ever thought was really, really great, so I'm sorry I waited!
15. Favorite Passage/Quote From A Book You Read In 2014?
So, embarrassingly, I didn't realize this was a variation on a Winston Churchill quote (I've already been mocked plenty for it, thanks), but either way, I loved it so much that I hung it up at my desk at work: "History is told by those who win." (Dangerous Boys by Abigail Haas)
16.Shortest & Longest Book You Read In 2014?
Shortest: Not counting novellas and serials, Dirty London by Kelley York
Longest: Afterworlds by Scott Westerfeld
 17. Book That Shocked You The Most

Complicit by Stephanie Kuehn. I enjoyed the book but also knew where it was going the whole time, but then there's this one thing at the very end that makes you go "ARE YOU KIDDING ME?!" in the best/worst way. It was also my first book by her, so I didn't realize she's actually super crafty at that sort of thing.
18. OTP OF THE YEAR (you will go down with this ship!)

Sam and Drill from Rites of Passage. I NEED A SEQUEL, JOY HENSLEY.
19. Favorite Non-Romantic Relationship Of The Year
Dee and Reagan in Open Road Summer. Such a fabulous friendship.
20. Favorite Book You Read in 2014 From An Author You've Read Previously
I'll Give you the Sun by Jandy Nelson
21. Best Book You Read In 2014 That You Read Based SOLELY On A Recommendation From Somebody Else/Peer Pressure:
I really feel like someone pushed me into reading Deeper, and I cannot for the life of me remember who it was, so I can't say it. So, toss-up between The Year We Fell Down by Sarina Bowen (thanks to Katie Locke) and You by Caroline Kepnes (thanks to Leah Raeder).
22. Newest fictional crush from a book you read in 2014?
This was a tough battle, but I think the win goes to Drill from Rites of Passage.
23. Best 2014 debut you read?
This is such a tough call, and I constantly juggle three in my mind for different reasons. To only pick one, and factor in a whole bunch of things, I'd say Lies We Tell Ourselves by Robin Talley, but I'd be really remiss not to give shoutouts to Pointe by Brandy Colbert and Rites of Passage by Joy N. Hensley here.
24. Best Worldbuilding/Most Vivid Setting You Read This Year?
Beware the Wild by Natalie C. Parker. Endless amounts of gorgeous southern gothic atmosphere.
25. Book That Put A Smile On Your Face/Was The Most FUN To Read?
Ask Again Later by Liz Czukas. This is my ultimate "Read this and get in a good mood" rec.
26. Book That Made You Cry Or Nearly Cry in 2014?
I cried five times while reading The Summer I Wasn't Me by Jessica Verdi. Yes, I counted.
27. Hidden Gem Of The Year?
My Best Friend, Maybe by Caela Carter. I feel like no one I know read this book, and it kills me because it touches on so many things I see people wanting more of in YA – a thoughtful look at religion and the religious spectrum; romance between girls; an interracial relationship; adoption; a foreign setting…it ticks so many of those boxes, but for some reason it just didn't get on the radar like I thought it should have. It was also the first time I read a book where the character arc really had me guessing – like I really turned pages wanting to know how the MC would evolve – and that was a very cool thing as both a reader and a writer.
28. Book That Crushed Your Soul?
Oddly, Love and Other Theories by Alexis Bass. (Well, We Were Liars by E. Lockhart, but I happen to have read it in 2013.) LaOT definitely wasn't what I expected, and it isn't that it set out to be soul-crushing. It just did a really great job hitting a particular sore spot of adolescence for me – the pain of watching someone you really care about slip through your fingers and feeling powerless to stop it – and it was brutally uncomfortable for me in a way that only Corey Ann Haydu had really nailed before.
29. Most Unique Book You Read In 2014?
I guess Afterworlds by Scott Westerfeld? It had the whole dual-storyline thing going on, plus it was pretty completely NA on the contemp side, plus super meta, plus an unexpectedly good f/f romance. (Shoutout to Jackie Dolamore, because I was only very vaguely thinking about reading it for all the writerly stuff; she's the one who mentioned it when I asked if a male YA writer had ever written f/f romance.)
Very, very honorable mentions to Guy in Real Life by Steve Brezenoff and The Fourth Wish by Lindsay Ribar, for really interesting and thoughtful takes on gender identity in books that were also solidly entertaining. (And this is just specifically in answer to the question of uniqueness; I liked both of these books a lot more than Afterworlds. Which isn't to put down the latter; these two were just very high on my list this year.)
30. Book That Made You The Most Mad (doesn't necessarily mean you didn't like it)?
Althea & Oliver by Christina Maracho or Love and Other Theories by Alexis Bass – tough call. I really liked both, but man, I would shake those characters so hard if I could. You just see them hurting themselves in these ways you know they don't have to be, but it's easy to say that as an objective observer, and harder when you're in it.

1. New favorite book blog you discovered in 2014? 
Aah, so hard to remember when I discovered different blogs. I think Rather Be Reading was a 2014 find?
2. Favorite review that you wrote in 2014? 
I kind of hate how ineloquently I review books, honestly. I guess I'll go with Deeper by Robin York.
3. Best discussion/non-review post you had on your blog?
It's not my most coherent post, admittedly, but I loved talking about NA in "Every Thought I've Ever Had About NA, Ever."
4. Best event that you participated in (author signings, festivals, virtual events, memes, etc.)?
I love BEA, because it brings so many of my favorite people to my city, and this year, I got to do my very first signing, which was awesome. I met a bunch of my favorite bloggers – and got to drink alcoholic milkshakes with a few! – met some hero authors of mine (hands-down best event moment of the year was getting my I'll Give You the Sun ARC signed by Jandy Nelson and having her look at my name badge and go, "I know you. From Twitter." My husband still makes fun of me that I sounded more trembly and excited from that than having my first signing), and saw great friends. Plus, got some great ARCs!
5. Best moment of bookish/blogging life in 2014?
Seeing my very first book in a bookstore. It's really hard to imagine anything in my bookish life will ever top that. And yes, I cried like a baby.
7. Most Popular Post This Year On Your Blog (whether it be by comments or views)?
It's Not Just You. Which was a very cool post to see viewed and shared so much, because it felt like a major testament to the post's entire message.
8. Post You Wished Got A Little More Love?
Hmm, maybe A Troubleshooting Guide to Inevitable Publishing Disasters, just because I still have those same conversations over and over again where I talk people through these things and I'm just like DID YOU READ MY POST.
9. Best bookish discover (book related sites, book stores, etc.)?
As I dug into more NA blogs I realized how many do the amazing job of posting, like, every freaking NA/Romance book that comes out. I am awed by that. (And, as a NA author, grateful!)
10.  Did you complete any reading challenges or goals that you had set for yourself at the beginning of this year?
Yup – completed my Goodreads challenge of reading 150 books.
1. One Book You Didn't Get To In 2014 But Will Be Your Number 1 Priority in 2015?
I'm lucky enough to have an ARC of More Happy Than Not by Adam Silvera that for blogging reasons I won't be able to squeeze in to 2014 but will definitely be reading as early as possible in 2015.
2. Book You Are Most Anticipating For 2015 (non-debut)?
All the Rage by Courtney Summers.
3. 2015 Debut You Are Most Anticipating?
Honestly, I've read a lot of incredible 2015 debuts already, so that's definitely something to take into account. Of the ones I haven't yet read…probably Anne & Henry by Dawn Ius. The book I'm writing now is also a contemporary YA play on an event in British history, so I'd love to see how this one was done, and also it just sounds fabulous.
 4. Series Ending/A Sequel You Are Most Anticipating in 2015?
Deceptive by Emily Lloyd-Jones. I'm just so excited to spend more time with these characters, and I have a good feeling about where some of those relationships are going.
5. One Thing You Hope To Accomplish Or Do In Your Reading/Blogging Life In 2015?
Write a lot more about both sex in YA and queer YA. My book coming out in June has a strong focus on that intersection and it's something I'm really looking forward to talking about.
6. A 2015 Release You've Already Read & Recommend To Everyone:
None of the Above by I.W. Gregorio and Simon Vs. the Homo Sapiens Agenda by Becky Albertalli. I pretty much need them to become required reading. But I also know they're on plenty of people's radars, so, three more books that don't seem to be but which I read and loved in earlier stages and really, really want to get infinitely more attention than they have: Made You Up by Francesca Zappia, Damage Done by Amanda Panitch, and Play On by Michelle Smith. Buzz on all three of them seems so quiet to me, and I think they're all gonna be books people cite as being sorry they didn't pick up earlier. They also all have aspects of mental health issues, which is something I'm always happy to see in YA. And, of course, the truly excellent books by my nearest and dearest writing buddies, which I'm lucky enough to get to read in manuscript form: The Conspiracy of Us by Maggie Hall, Last Year's Mistake by Gina Ciocca, Skandal by Lindsay Smith, and Black Iris by Leah Raeder.
That's my survey; share yours in the comments!