Happy 5th night of Chanukah! As this goes live, I'm probably lighting candles and exchanging gifts with my in-laws, so it's only fair you guys get a gift too, right? (jk that's not how real life works – don't get used to it).
In this case (and only this case), the gift is an ARC of a book I haven't read yet, but it's by Ally Carter and it sounds pretty epic, so let's just trust it, shall we? Scholastic was lovely enough to send me two of these, and I'll be devouring one shortly, so, keep me company!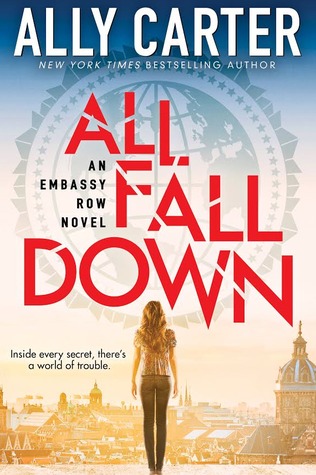 This exciting new series from NEW YORK TIMES bestselling author Ally Carter focuses on Grace, who can best be described as a daredevil, an Army brat, and a rebel. She is also the only granddaughter of perhaps the most powerful ambassador in the world, and Grace has spent every summer of her childhood running across the roofs of Embassy Row.
Now, at age sixteen, she's come back to stay — in order to solve the mystery of her mother's death. In the process, she uncovers an international conspiracy of unsettling proportions, and must choose her friends and watch her foes carefully if she and the world are to be saved.
The best part of this book is that it makes for the perfect buddy read with The Conspiracy of Us by Maggie Hall, so I'm hopeful it'll help with that book hangover while I wait for the sequel! And since the books do have that international conspiracy element in common, the bookmark that comes with this ARC will be none other than Maggie's!
To enter for an ARC of All Fall Down (international, like all the others, with a winner to be chosen on January 1), just leave a blog comment on how badly you want it and why 🙂