Happy second night of Chanukah! Tonight brings a fabulous prize in my 8 Days of Chanukah giveaway, which comes with an Author Spotlight on…
Who is super lovely in real life and even in random bar selfies, as per exhibit A:
Here's her official bio:Emery Lord is a 20-something Midwestern girl who writes stories about high school and best friends and weird families and the crushes that make you feel combustibly alive and also more awkward than you thought was possible. If you're not sure how to pronounce Emery, try slurring the name "Emily," and that will get you really close.
She lives in Cincinnati in a 100 year-old pink row house with her BFF/husband, a closet full of dresses, and lots of books. If karaoke-ing in grocery store aisles or guzzling coffee while impulse shopping were illegal, Emery would be writing her overemotional YA books from jail. Also, she makes up words sometimes. Like combustibly.OPEN ROAD SUMMER, her first YA novel, is out now with Bloomsbury. Her second, The Start of Me & You, will be released March 31, 2015.
But here is the more important Dahliafied version: Emery Lord is pretty much the dictionary definition of fabulous. She has supreme eyebrow game, blazer game, and though she's obviously in a committed relationship, I suspect she has major game game. She writes kickass books about flawed, learning girls and the sweet boys who love them, and this is all probably unnecessary because Open Road Summer was likely your favorite book of the year anyway. And now, here's some info about her books!
The Published
A Little-Known Fact About Open Road Summer: I don't think I've ever told this one before: I realized early in the book that I'd have to write lyrics for songs. I found I couldn't do it- unless I could HEAR the song in my head. So, for a lot of them, I had to sit at my piano and come up with the accompaniment in order to write the lyrics. (Which was so awkward and hard and so wonderful because it incidentally helped me understand Dee better as a character/songwriter.) I only used snippets of most songs because it was best for the book. But sometimes, while I'm waiting for my coffee to brew, I'll sit down at my piano and play Middle of Nowhere Tennessee or the duet between Dee and Matt Finch that got cut.
A Sensory Image to go with it: I'm a fan of this pic.
You can check out Emery's website here.
The Upcoming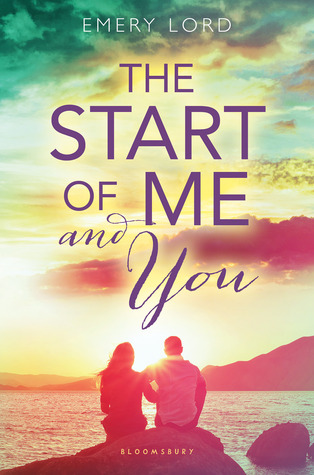 The Start of Me & You is out March 31st, 2015!
For the book pimping portion of our program, because this is my blog, after all: 
Tell us about your critique partner and why her books are awesome!
I am, in art as in life, happily partnered and monogamous. Bethany Robison is the yang to my yin. She writes both sports articles and the kind of fiction people mean when they say "Write the book that only you can write" and "find your own voice." My books fit into a certain commercial category, whereas Bethy is pioneering territory all her own. I am lucky to be a witness.
1-3 other books in your genre (which, for Emery, is contemp YA) you love:
1-3 other books not in your genre(s) that you love
And now for the publishing talk:
Who are you repped by?
Taylor Martindale of Full Circle Literary
As a published author, what was something you learned through the process that was so not worth the stress?
Basing your decisions on what anyone else is doing. Before and during debut year, I think it's easy to worry that you'll show up to class without the homework assignment done. But this isn't school. You can and SHOULD be doing different work than other people, in your own time. You can write in different genres even if other people seem to be staying put. You can write companion novels or standalones or a series. You don't have to tweet/tumbl/facebook/vlog/blog/instagram even if other people are doing those things. I, for whatever reason, just really didn't want to order bookmarks or postcards for Open Road Summer. And I gave myself a stress stomachache right before tour, stressing about not doing that when everyone else had. But you know what? I had ordered stickers and temporary tattoos and buttons because…frankly, they made me happy. There's enough to worry about without basing your choices on other people's. So…what if I wear jeans to event and the other panelists are in dresses?? A CONFETTI CANON OF "WHO CARES?" DO YOU, BBs.
What was something that actually was?
Book 2. Book 3. Book 4. Not STRESS, necessarily. But your energy, effort, attention: yes, worth it. I tried my utter damnedest to channel all my debut year feelings into work. Excited? -> write. Not sure what the hell is happening? -> write. Panicked -> write. Or read or go have lunch with writer friends. There is very little you can control in this industry. Stressing about how I shape my next book is something I can control, as is honing my craft. So I do, happily.
What sorts of things do you shamelessly pass off as "research"?
For Open Road Summer, ogling pictures of Matt Lauria and taking a killer road trip to Nashville with my girl friends. For the second, I read a lot about writing for TV, which was a delight. For my third book, I went to Mendocino, and it remains one of the most gorgeous places I've ever been.
What do you always wish people would ask you in interviews?
I like being asked about anything involving the intersection of writing fiction and feminism. Or narrative + mental health. And I love talking craft- like, in-depth: specific strategies in executing dialogue, the ins and outs of creating a narrative voice, honing a prose style and how form serves content, etc. That would probably make for a dry interview, but let's all talk about it in person! Say "syntax" and I'm yours.
And now, you lucky people, I'm giving away my precious ARC of Emery's 2015 book, The Start of Me and You. In the spirit of Emery-ness, to win, just tell me something you love about one of your best female friends! (This giveaway is, as all the 8 Days giveaways are, international, with winners being picked on January 1.)
As I mentioned yesterday, all books being given away as part of 8 Days of Chanukah are coming with a corresponding bookmark. In this case, the bookmark in question is a signed one from Under the Lights, by me, because in addition to being a huge fan of Emery's, we're also debut class buddies who both have our sophomore contemp YAs coming out in 2015 😉