Welcome to another addition of Author Spotlight! It's been a little while, but I'm excited to be back with an author who's celebrating the release of her sophomore novel, which I loved. Please welcome…
And then enjoy this last moment before you'll forever begin to picture her this way:
Yes, that is Alison dressed as a Flashdance-theme zombie. I realize that's probably already sold you on any and all books she may write from now, but just in case, let's learn a little more about her/them!
Here's her official bio:
ALISON CHERRY, author of Red, lives in Brooklyn, New York. She is a professional photographer and spent many years working as a lighting designer for theater, dance, and opera productions. She once faked an important appointment so she could leave rehearsal in time to watch the finale of The Amazing Race. Visit her at alisoncherrybooks.com or follow @alison_cherry on Twitter.
But here is the more important Dahliafied version:
Alison Cherry is an awesome person I'm privileged to get to see and sometimes freak out to about authorly things frequently. Her hair is real and great, her name is real and great, and her new book is called For Real and it is also great. (But seriously great – like, so much fun, great sisterly relationship, awesome settings, did not at any point want to put it down kind of great.) Alison's got serious authorly range; on top of writing two completely different YAs, she also has MG coming out. Now I just need to figure out how to pull her to the NA dark side…
And now, here's some info about her books!
The Published
A Little-Known Fact About Red: There's an important scene in RED that takes place at a gourmet French fry restaurant called Fry Me to the Moon, and the first question nearly EVERY SINGLE READER asks is whether the restaurant is real. Sadly, it is not. Maybe I should retire as a writer and fix that?
A Sensory Image to Go With it: There's an extremely annoying song in RED called "Red is the Color of My Heart;" my main character has to hear it over and over, and it drives her completely insane. It's a jazzy Big Band number in the style of "Love You Madly" by Duke Ellington, but much, much sappier. The song isn't real, but I know how it goes, and it is constantly getting stuck in my head. (It's stuck in my head right now, actually.)
A Bonus Blog Post: A particularly comprehensive interview with Teen Lit Rocks, in which Alison discusses pageant moms, redheadedness, allegory, and what she read as a teen: http://teenlitrocks.com/2013/10/11/red-blog-tour-interview-with-alison-cherry/
Buy It! B&N * Indiebound * Amazon
*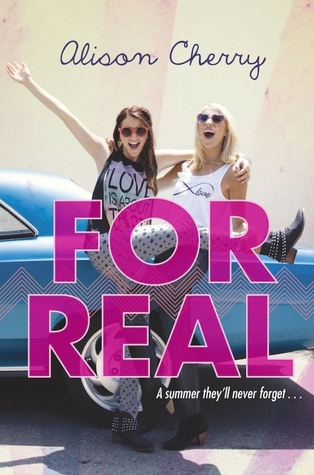 A Little-Known Fact About For Real: There's a scene in this book that I stole from the very first book I ever wrote, most of which is totally unpublishable and will never see the light of day. The scene originally took place in a girl's bedroom in the Midwest. Now it takes place on a stage in India in front of hundreds of people, but the trajectory is exactly the same.
A Sensory Image to Go With It: One of the challenges on the reality show in FOR REAL involves painting an elephant, and I had a great time researching how to do it.
Buy it! B&N * Indiebound * Amazon
*
The Upcoming
GRANDMA JO'S GUIDE TO PRIM AND PROPER PILFERING (out spring 2016), which is about a twelve-year-old girl who discovers her grandmother's "bridge club" is actually a heist ring.
Three things I researched while writing this book:
1) Can parrots sing Christmas carols?
2) How does lock-picking work?
3) How much does a taxidermy bear weigh?
LOOK BOTH WAYS (out November 2016), which is about musical theater and two girls walking the very fine line between obsessive, platonic friendship and romantic love. (Blogger's Note: YES. THIS IS MY CRACK.)
This book includes the most awkward, uncomfortable scene I have ever written, and I ended up writing it in a coffee shop. I spent the entire time squirming, hiding my eyes, and looking around to make sure no strangers were reading over my shoulder.
And now, for the book pimping portion of our program, because this is my blog, after all:
Tell us about your critique partner and why their books are awesome!
I have a LOT of critique partners, and I could wax poetic about them forever. In the interest of not boring you all to death, I will pick three fabulous people to rave about:
1) Lindsay Ribar, author of The Art of Wishing and The Fourth Wish. Lindsay's writing is, in a word, delightful. At first, she tricks you into thinking you're just taking a fun, fluffy romp through an action-packed story full of genies and music and kissing. But then you finish reading and realize she has actually just made you confront all these important issues about identity and consent and gender, but she did it so seamlessly that you thought about all those things without even realizing it. (Blogger's Note: This is a perfect assessment of both Lindsay's books and why I'm obsessed with them.) I love having Lindsay read for me because she never lets me take the easy way out; if a scene is terrible or a plot point doesn't make sense, she'll always call me on it. Fortunately, she does it so gently and constructively that reading her notes never makes me feel defensive, just excited to work.
2) Corey Ann Haydu, author of OCD Love Story and Life by Committee. Sometimes I wonder why I even bother to write contemporary YA when Corey exists in the world. When I read her writing, I want to underline every single sentence, then bang my head against the wall and throw my computer out of the window. Her writing is so specific and beautiful and true, and she's able to cut right to the heart of an emotion like nobody else I know. I love having Corey read for me for the same reason—she tells me her entire emotional journey as she makes her way through my manuscripts, and it makes it so easy to see if I've struck the chords I intended to strike with my readers or if I've missed the mark altogether.
3) Caroline Carlson, author of Magic Marks the Spot and The Terror of the Southlands. First of all, Caroline's books are absolutely hilarious, so if you want to laugh yourself silly, go pick them up now. Her writing is also so tight and polished and well-paced that I feel myself relaxing when I read it—I completely trust that she's knows what she's doing and that if I surrender to the story, it'll take me somewhere amazing. (It always does.) When Caroline reads my manuscripts, she spouts these little gems of wisdom that I can apply to all my books for the rest of my life. One of the best things she ever told me is that the DNA of my entire book should be in the first chapter. Now I never write anything without thinking about that.
1-3 other books in your genre (Contemporary YA, for Alison) you love?
FANGIRL by Rainbow Rowell
THE DISENCHANTMENTS by Nina LaCour
JELLICOE ROAD by Melina Marchetta
1-3 other books not in your genre that you love?
GRACELING by Kristin Cashore
GIRL OF FIRE AND THORNS by Rae Carson
THE YEAR OF SHADOWS by Claire Legrand
Who are you repped by?
I'm repped by Holly Root at Waxman Leavell. She is THE BEST.
As a published author, what was something you learned through the process that was so not worth the stress?
No matter what I write, there will always be people who don't like my books, and they will say so loudly and often on the internet. However, those reviews aren't written for me, and I don't have to engage with them or let them affect me. After many long hours of torturing myself by reading bad reviews, I instituted a punishment system for myself: if I google my own name, I am not allowed to have anything with sugar in it for the next 24 hours. This forces me to choose between having cookies and having a pity party, and obviously I choose cookies every time.
What was something that actually was?
When I turned in my first draft of FOR REAL, my editor basically said, "Mmmm, nope. Try again." I literally deleted all but ten thousand words of the book and started again. It was unbelievably stressful, but she was totally right, and the finished book is a billion times better than what I initially gave her. Our words are not precious, and if they're not serving the stories we're trying to tell, they have to go.
What sorts of things do you shamelessly pass off as "research"?
Watching shows on ABC Family totally counts as research for a YA writer, right? RIGHT? (I also write every single book I buy off on my taxes, even if they have nothing to do with what I'm writing.)
What do you always wish people would ask you in interviews?
Lots of people have asked me when I knew I wanted to be a writer, but nobody has ever asked me WHY I write. The short answer is that I used to work as a lighting designer for theater, and a brilliant director once told me that as an artist, it's my responsibility to show people how I see the world. This is my way of doing that.
Since this is actually part of Alison's official blog tour, Random House has generally offered to give away a copy of For Real! To enter to win, just comment below with the coolest thing you've ever done on a trip, and we'll announce a winner on Monday, December 22, at noon EST!