Clearly there was no way I was going to skip a Top Ten Tuesday on the topic of beach reads (Oh, hi, have you seen my upcoming release?) so, voila!
Top Ten Books That Should Be In Your Beach Bag (and/or would be in mine, if I were going to the beach this summer, which I am not, because life is dumb and so is being an adult and having a job and oh God where were we?)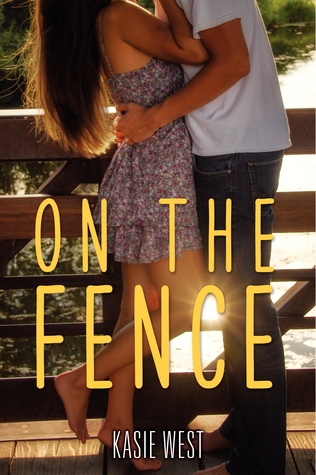 ON THE FENCE by Kasie West (out 7/1) – This was an easy choice because it was in my beach bag, only by beach I mean pool, but whatever. Point is, I read it in a single sitting by the pool back in April and I adored it, because duh – it's a contemporary romance by Kasie West.
OPEN ROAD SUMMER by Emery Lord – I mean, you've probably already read this, because who hasn't? But if the answer is that you hasn't, then you should. On the beach. Or by the pool. Or really, wherever.
THE SOUND OF US by Ash Poston – I love NA, but sometimes it drives me crazy how dark 98% of it is. I love THE SOUND OF US because it's fun as hell, packed with banter, and the perfect summer read.
ANNA AND THE FRENCH KISS by Stephanie Perkins – Possibly the most reliable contemp romance in existence, and my favorite to reread to death. Especially if you haven't yet picked this one up, I definitely recommend doing so before ISLA AND THE HAPPILY EVER AFTER releases later this summer!
WISH YOU WERE ITALIAN by Kristin Rae – This book was exaaaactly what I wanted it to be. So much fun, so much Italy, so much gelato… such a perfect beach read.
ASK AGAIN LATER by Liz Czukas – This one made me smile so freaking hard, I swear my face hurt by the time I was done with it. I just downloaded her second book, TOP TEN CLUES YOU'RE CLUELESS, from Edelweiss, and that's definitely gonna be one of my (metaphorical) beach reads this summer!
THE ART OF WISHING by Lindsay Ribar – A super adorable, really intriguing, and totally unputdownable Paranormal Romance. As a bonus, the even-more-amazing sequel, THE FOURTH WISH, drops on 7/31.
AUDREY, WAIT! by Robin Benway – Just one of my favorite fun YAs ever. In fact, I think I may be due for a reread any minute now…
LOVESTRUCK SUMMER by Melissa C. Walker – See above, plus it's super short, which is perfect if you need a quicker read between naps under the sun!
Hahahahaha you didn't really think I wasn't gonna put my own book down here, did you? Oh, you did? That's so cute.
But sorely misguided.
BEHIND THE SCENES by Me
THIS IS MY BOOK AND I WROTE IT AND I LIKE IT AND YOU MIGHT ALSO