Welcome back to my new Author Spotlight series! As a reminder, for this series, I've asked all these authors the same questions, to get to know a little more about their projects, their lives, their publishing experiences, and the things their readers might never have known to ask. Oh, and a photo they would never, ever use as an author photo. Now, let's get started!
As per Caela: "I had trouble finding one of me alone, so in honor of MY BEST FRIEND, MAYBE here is me with my BFF on our birthday over a decade ago. Yes, my shirt says 'Hey, Ya!'"
Yes, I am also jealous of her shirt, so you do not need to be ashamed. And for those who don't know Caela, here's her official bio (as I ripped off from Goodreads and is a wee bit outdated):
Caela Carter was raised in Basking Ridge, NJ and Baltimore, MD. She's been writing since she learned how to pick up a pen but before the writing thing got serious she spent six years teaching English to middle and high school students in Jacksonville, FL and Chicago, IL. Her debut novel, ME, HIM, THEM AND IT will be published in 2013 by Bloomsbury. When she's not writing, Caela is a middle school librarian in Harlem, a Notre Dame football enthusiast, and a happy explorer in New York City. www.caelacarter.com
YEAH NEW YORK CITY! But also, that bio predates her actually getting published, so you obviously need to see her current Dahliafied bio:
Caela Carter writes tough, gut-punchy books that somehow seem to sneak up on you out of nowhere. These include Me, Him, Them, and It, which as about as non-preachy as a book on teen pregnancy can get, and My Best Friend, Maybe, which portrayed a religious MC in a way I'd never before seen in YA and kept me turning pages like crazy simply because I couldn't stop obsessing over the character development. So, yeah, that's pretty cool. Meanwhile, her 2016 release looks like it just might be the YA "Make It or Break It" I've been dying for, so she's definitely a writer on my radar!
You want to know more about those books, don't you? Well, now you can!

The Published
A Little-Known Fact About Me, Him, Them, & It: Evelyn wasn't going to be pregnant when I started writing the book. She was always lonely and self-sabatoging but the pregnancy came the second time I tried to start her story.
A Sensory Image to accompany your read:
Evelyn's high school is loosely based on a school where I taught in Jacksonville, Florida.
Buy it: B&N * Indiebound * Amazon
The Upcoming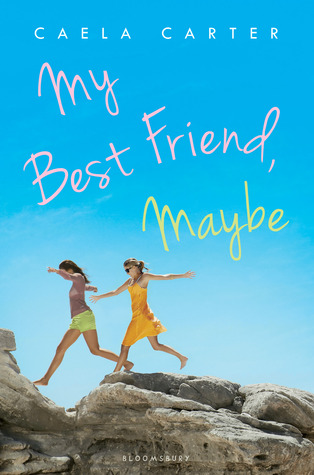 My Best Friend, Maybe Releases June 3, 2014
A Little-Known Fact About My Best Friend, Maybe: I was writing this book when I got married and we honeymooned in Santorini and Crete. So my honeymoon was research. The best kind of research.
A Sensory Image to Accompany Your Reading:
As soon as I saw this tree (on the island of Crete) I knew so many more things about the book, the plot, and my characters.
Buy It: B&N * IndieBound * Amazon
I have a book coming out in 2016 (so far away!) titled TUMBLING. I'll just leave you with this image:
For the book pimping portion of our program, because this is my blog, after all:
Tell us about your critique partner(s)/co-author(s) and why their books are awesome!
I have a bunch of AWESOME critique partners, including:
*Amy Ewing, author of the upcoming YA Fantasy, THE JEWEL, which is awesome and complicated and challenges the reader to widen their definition of the word "person." Amy is a great critique partner because she pushes me on imagery and romance. She's also super-encouraging.
*Corey Ann Haydu, author of LIFE BY COMMITTEE and OCD LOVE STORY and the upcoming MAKING PRETTY and RULES FOR STEALING STARS. Corey's books are dark and twisted in fascinating, internal ways. She's great at pushing me on character development and giving me permission to take stories to all the dark places.
*Jessica Verdi, author of THE SUMMER I WASN'T ME and MY LIFE AFTER NOW and the upcoming WHAT YOU LEFT BEHIND. Her books are great for exploring both the fun and the complicated sides of life as a teen. Jess is a great critique partner because she notices every inconsistency and she also pushes back when my characters might make the wrong move for their development. Also, Jess was a high school cheerleader and she uses that training to cheer on all of our books, and I really appreciate that. 🙂
As someone who has met all three of those fab ladies, I can tell you they are indeed awesome. In fact, you can read an interview with Corey here and a guest post by Jessica here 😉
Give us 1-3 Books You Love in Your Genre (in Caela's case, contemp YA):
Give us 1-3 Books You Love not in Your Genre:
HARRY POTTER AND THE EVERYTHING by JK Rowling (Yes, she is super pushing it here)
FEED by M.T. Anderson
THE BOOK THIEF by Markus Zusak
Who are you repped by? (And/or who reps the books you've sold?)
Amazing Awesome Agent Kate McKean. #teamMcKean
As a published author, what was something you learned through the process that was so not worth the stress?
Almost everything. The biggest thing that I worried about pointlessly was people in my real life (IE my parents, siblings, cousins, friends) hating my book. And being disappointed in me. And telling me about it. But that didn't happen last time. I must have good friends and family because the ones who loved it told me. And everyone else said nothing.
What was something that actually was?
Finishing the book and making it as real as I can. I've learned that's the ONLY piece I can control, so it's the only one worth worrying about. (But I still worry about everything else that's out of my control. Of course.)
What sorts of things do you shamelessly pass off as "research"?

Um, my honeymoon? I'm ok with that though. It really was research.
Some of the television I watch while telling myself it's research is probably a stretch, though.
What do you always wish people would ask you in interviews?
On the serious side here, I guess I wish I was asked more about diversity. My books don't end up on the diverse lists (and they don't belong there) but I do what I can to keep them diverse within the pages. So far I have written about girls in the "majority" (straight, white, cis, etc) but they still confront their racial and sexual identities. They are realizing and coming to terms with the fact that they are not "normal" by default. I do that purposefully. It was something I remember thinking about a lot as a teen. But I'm not sure it matters to readers because people rarely talk to me about it.