I am so, so honored to be the final stop on the blog tour of Corey Ann Haydu's LIFE BY COMMITTEE, one of my favorite reads of 2014 and truly one of the most original contemporary YA novels I've had the ridiculous pleasure of reading. I fell obscenely hard for Corey's writing last year, following the release of her debut, OCD LOVE STORY (which you can read a bit more about here), and was beyond thrilled to see that her next book totally lived up to my internal Corey hype. If you haven't already picked up LIFE BY COMMITTEE, click anywhere it's linked to be taken to a page with buy links, and/or enter here to win your very own signed copy!
And now, get to know the one, the only, the fabulous: Corey Ann Haydu!
You've become quite the master of writing books that make people uncomfortable, which is one of my favorite things. How do you get comfortable writing them and pushing them out into the world? Is there anything you'd still love to write about but don't quite feel like you can do yet?
I guess what's been interesting and surprising about the reactions to my work. I think this happens to everyone, but I didn't set out to write Uncomfortable stories of Challenging stories or really any kind of story. I try to write honestly about the world as I know it, and what I've learned is that maybe I'm a little more comfortable with some of the uglier parts of the human experience than some readers. But that was all news to me. When my first reviews for OCD LOVE STORY started coming in, I was surprised to hear how difficult and anxiety-inducing the book was for many readers. It was a reality check—that we all see the world very differently. And the lens I happen to see the world through is one that includes anxieties and jealousies and judgements and really raw emotions. It's okay that's not how everyone else experiences the world.
I find a lot of calm, strangely enough, in accepting the chaos of the world we're in, and I think my writing reflects that desire to accept difficult things, rather than deny them.
I don't think there's anything I'm unwilling to tackle, although I did recently admit that I'm struggling to find a way to write about the messier sides of sexuality. I'm very interested in bodies and teen's relationships with their bodies, so that would be a natural place to go… when I'm ready.
You met a lot of fellow authors through an MFA program, which is something I think a lot of writers think about doing. What would you say to consider when deciding whether to apply, and what would you say you gained from it?
I always knew I wanted an MFA, in the same way I always knew I wanted to go to an acting conservatory for college. I like the challenge of a high-intensity creative space. And I had an interest in teaching at some point at the college or grad school level, and figured getting an MFA would help with that as well. But mostly it was the idea of taking time to really focus on writing and to get outside help from teachers and other students in the learning process that pushed me to get my MFA.
Of course everyone has a different journey with any artistic endeavor, and there is no Right Way to do it. Grad school was the right way for me. I needed the permission and space to focus, I wanted a community, and I wanted to be pushed to explore outside of my most comfortable reading and writing genres.
I think people can get a lot of these things on their own or my creating their own community, making reading lists, doing writing workshops, joining book clubs, and so on. But if you feel you can't push yourself hard enough or diversify your skills and interests and knowledge enough on your own, an MFA is a great thing to consider! In some ways it's a mental shift, a way to jump head first into making writing your life. And that's maybe the biggest gift it gave me. Going to grad school helped me mentally say "yes, this is what I'm doing with me life" "yes this is my priority" "yes I'm starting a new journey."
I only recently learned that you actually have quite the interesting publishing background. Could you enlighten our readers about your illustrious history?
Haha, absolutely! When I was twenty-six and realizing I wasn't meant to be an actor, I knew it was time to pursue my other passion—writing. I'd always wanted to be in publishing and had it as a sort of safe space in my head—that the future would involve writing and the world of literature. But I spent my entire life acting, so I knew I needed to start over in a real way. So at twenty-six I started pursuing internships in publishing. It was difficult, in that a lot of interns are in college or right out of college and I felt old (ha! twenty-six! old!). I ended up at a literary agency specializing in YA and middle-grade literature. I didn't know much about children's literature, outside of when I was a child and teen reader. But I liked the people at the agency, and I felt excited by learning about something new. My boss gave me a few books to read—The Hunger Games (long before it was a sensation) and Savvy among them, and I fell in love. I worked for that agency for a while—moving from intern to assistant pretty quickly (the benefit of being an Old Intern is you bring wisdom to the table that some of the younger interns might not have) and also worked for a book packaging company specializing in YA literature.
When that job ended, I started working for a best-selling young adult author and started grad school while I was working for her. It was awesome– I got a real taste of what being a working writer looked like, and had some built-in guidance in the industry.
Soon after that I started working for a foreign scout specializing in children's and YA lit. I read basically everything under the sun and assisted her in matching US projects to foreign publishers. I learned so so much and really loved getting a first look at so many pre-published books.
I still do some freelance reading from time to time—I do love helping other authors with their work—but I'm pretty much a full-time writer these days. I highly recommend taking jobs in publishing if you're interested in becoming a writer. I think it helped me a great deal, and continues to help me to this day—again it's a way to create connections and community, get to know the world you want to be working in, push yourself to try new things, and it's a way to make the leap and commit to making literature a priority.
Rules For Stealing Stars, which releases in 2015, is your first foray into MG. What made you head in a younger direction, especially with your YA generally being on the upper end of the spectrum? What's the biggest challenge you've found to writing younger? And do you have any plans to write older, for all the NA fans out there?
I came up with a tiny seed of idea for RULES FOR STEALING STARS during a writing exercise at The New School. I had no intention of turning it into anything. We were taking a class on MG literature and we did writing exercises before our discussions, so I felt I should play with an MG voice, since we were reading MG lit. The book took on a huge other life since those first few mini-scenes, but that's how the character and a bit of the plot emerged.
I found writing an MG book extremely liberating. I was able to try new things—this one even has magic—and play with different types of characters and emotions. Funnily the only thing I had a huge amount of trouble with was swearing and language in general. Especially in moments of frustration. I had no idea what one would say if they, say, dropped something hot on their bare feet if they couldn't swear. Which probably reveals more about me as a person than me as a writer.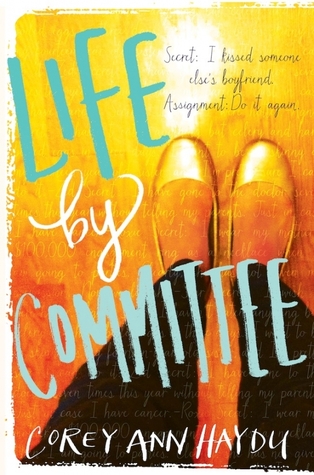 I love your characters (TEAM LISH 4EVA) and the truths in their relationships, and I often feel like they're misunderstood. What's a frustrating thing you've heard/read about your characters that you'd like to address?
Oh gosh. This is hard to do, because as a rule I know not to respond to specific reviews. Everyone's experience reading my books is their own. That said, something challenging with LIFE BY COMMITTEE is that the main character, Tabitha, makes some choices that aren't perfect. And I've found that some readers take those choices very personally. I find it hard to understand, partly because we all make decisions that are imperfect, and partly because I've never had much interest in reading about characters who are all really nice and good and don't do anything wrong. Maybe some people prefer books where the obstacles are exterior, and I totally get that. And I  certainly get that and have included some exterior obstacles in my characters' lives too. But the reality is, at least in my personal life, I've found that most of the obstacles I face are interior. Things I've done. Things I feel. Mistakes I've made. Situations I've created. That's what feels honest to me, personally, and that's what I'm interested in exploring. So my characters are ALWAYS going to have thoughts and actions and feelings that are challenging and imperfect.
I don't usually ask about inspiration, but the parents in Life By Committee are seriously some of my favorites in YA, and I usually hate YA parents. What inspired you to make the parents YAs themselves?
I'm going to be totally honest. I love Gilmore Girls. And I was interested in exploring a similar dynamic– young parents with teenagers. Plus there's the added benefit of me being able to relate to the parents since they are my age.
If we're talking a little more seriously, I also am interested in general about exploring the space where the line between parent and child is blurred. I do that in my upcoming books as well. That was a big part of my growing up– struggling with those roles– so I wanted to give Tabitha's life a bit of that struggle. I liked how young parents would make that struggle even more tangible. Her parents, too, are unclear about their roles, and the lines between Tabby and her parents are very blurry. I like those blurred lines.
Not the song. The concept.
I also just really, really, really like Gilmore Girls.
What can you share with us about the YA you have coming out next year, Making Pretty?
I am so excited about this book. It started out with a very very small seed of a question: what would it be like to be a teen girl whose dad is a plastic surgeon? and grew from there. Again, I'm exploring blurred lines between teens and adults– perhaps in an even more direct way than with LBC. It's also about shifting families. And shifting bodies. And shifting friendships.
And love. The really intense, chaotic kind. That's maybe a great idea and maybe a terrible idea. The kind of love that makes you want to be another person. Or be more of yourself. Or redefine who you are.
It's been a really challenging book. My editor called it "ambitious" which is maybe code for WHAT HAVE YOU DONE? I think that's probably accurate. RULES FOR STEALING STARS is my most personal book (which is saying a lot because OCD and LBC are both also incredibly personal. LBC in particular borrows a lot from my life and really addressed some of the lingering feelings I still have about high school). MAKING PRETTY is my most ambitious and most unruly and most surprising. In that it surprised me. Because I started with that one little question and man did it go in directions I could never have anticipated!
Oh and it's set in NYC. I've been in NYC for my entire adult life, 18 on, and it was really wonderful to finally write a YA novel set here. Expect more of that from me. 🙂
Want to win a signed copy of Life by Committee? Of course you do. So click here and enter! (Sorry, US/Canada only!) Giveaway ends at noon EST on Sunday, May 25.
Corey Ann Haydu's first novel OCD LOVE STORY came out July 2013 from Simon Pulse/Simon & Schuster and received three starred reviews, was a Junior Library Guild Selection and a Horn Book Blue Ribbon Winner. Her second novel, LIFE BY COMMITTEE will be published by Katherine Tegen Books/HarperCollins May 13, 2014, with a third YA novel, MAKING PRETTY, coming in May 2015. Her debut middle-grade novel, RULES FOR STEALING STARS will be out in Fall 2015, also from Katherine Tegen Books. Corey is also into cheese, feminism, and podcasts. Find out more at coreyannhaydu.com.